Sculptor, ceramist, painter and gallery owner
Born in Tarragona in 1969, she is the founder and director of the Natàlia Ferré Gallery. In 1991 she opened her own studio and since then she has been part of the international creative sector.
She received her artistic training in sculpture, ceramics and painting techniques at several art schools, leaders in the teaching of art and creation, such as the School of Art and Design of Tarragona, the School of Ceramics of Bisbal del Empordà (Girona), the Barcelona Academy of Art (Barcelona) and the Florence Academy of Art (Mölndal, Sweden).
«It takes talent and sensitivity to get artistic representation to evoke emotions in us. And therein lies the magic of Natàlia Ferré's work. In clay, in bronze or in painting, her hands shed tenderness»
Natàlia Ferré stands out mainly for her figurative sculptures of small and large format, although she increasingly combines 3D with acrylic or oil painting, always following the line of creation that characterizes her.
Her work has been exhibited at art fairs, ceramics festivals, salons and art galleries in several countries such as Netherlands, Germany, France, Italy, United Kingdom, United Arab Emirates and Taiwan.
It is also worth mentioning her public sculptures in bronze, which have her imprint and from the first moment we can recognize the author of the work. A work of medium format, elegant and modern. One of her main interests is that these works are close to the viewer so that he can interact with them, with the aim that art is closer and ours, and becomes part of our daily lives.
Examples of this public sculpture are «La puntaire de Salou» y «El Ball de Bastons de Salou» installed, respectively, in the Paseo and Calle Ponent in Salou (Tarragona, Spain)
Meet the Natàlia Ferré Gallery
Its privileged location allows the public to enjoy the medieval village of Montblanc, the work of Natàlia Ferré and temporary exhibitions of emerging and established artists. Because of these incentives, a visit to the Natàlia Ferré Gallery becomes an exquisite tour.
And if Montblanc is far away, we encourage you to visit the Gallery's Online Store, where you can purchase sculptures and paintings by Natàlia Ferré.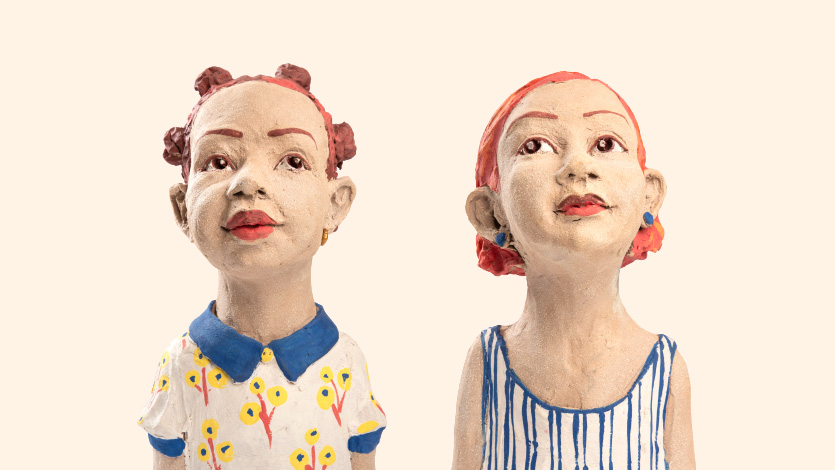 Sculpture, ceramics and painting
Located in the historic center of Montblanc, it houses the work of Natàlia Ferré and exhibitions of national and international guest artists.